Laminate
For laminate flooring in Dartmouth, Kingsbridge, Salcombe and Totnes in the South Hams in Devon.
NEW QUICK STEP DISPLAY STAND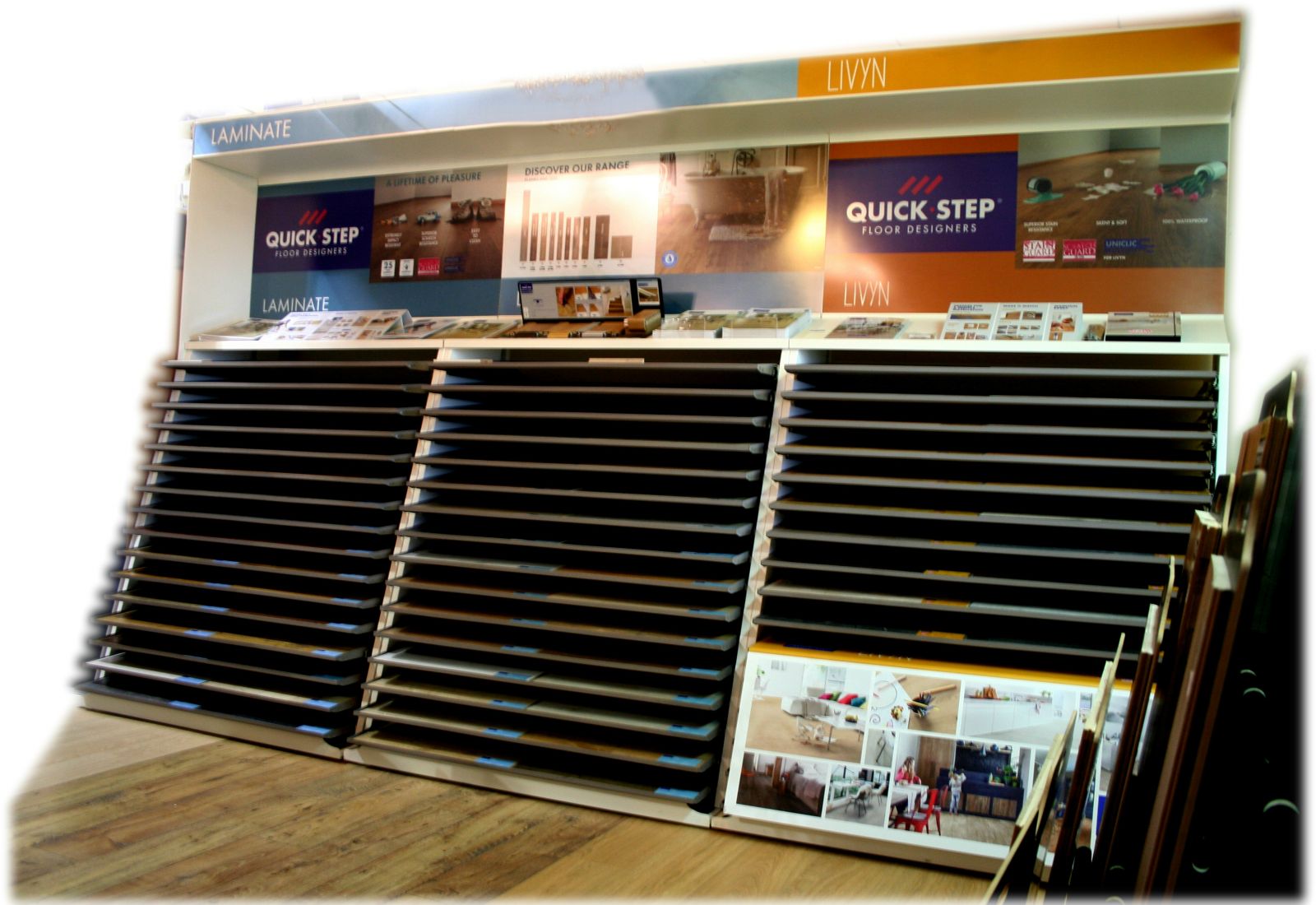 The new Quick Step flooring display in our first floor showroom now has pull out trays for easy browsing and comparison. As well as over 50 laminate floor styles it also features:
See a preview of a Quick-Step floor in your own interior
Wouldn't it be great if you could try out a number of floors in your own home before you finally make a decision? Well, now you can! Thanks to the Quick-Step RoomViewer you can preview all their floors virtually. So you will always make the right choice.
New Livyn Luxury Vinyl

Warm and waterproof
Available in a wide variety of colours and designs in planks and tiles.
Easy installation
Exceptionally quiet to walk on and 100% waterproof, making it the ideal floor covering for kitchens or bathrooms.
Versatile Quality
Livyn flooring can be installed anywhere, quickly and easily with the patented Uniclic Multifit for Livyn system. It can even be laid over your existing floor as it is so flexible and thin.
Livyn vinyl floors are protected against dirt, stains and scratches by a sealed top layer with 'Scratch Guard' and 'Stain Guard' technology which makes them easy to clean. All Livyn floors are also backed by a 20-year warranty.
Waterproof Impressive Ultra with HydraSeal
More natural than ever
Natural surfaces

Impressive Ultra is the most authentic and beautifully natural laminate flooring ever produced.

Grooved perfection

The floor's charachter is also perfectly reflected in the floor's grooves. The result is the most harmonious laminate floor ever.

16 stylish designs

Choose 8 mm thick Impressive or 12 mm Impressive Ultra.
More waterproof than ever
Waterproof coating

The waterproof 'HydroSeal' coating prevents water from getting into the grooves, so it's safe and simple to clean.

Shrugs off dust & dirt

Maintenance is trouble free because the joint between the planks is anti-static so it repels dust and prevents dirt from building up in the bevel.

Long lasting

Improvments in technology and durability mean this laminate floor scratch-resistant and will stay gorgeous for ages.
See a preview of a Quick-Step floor

in your own interior
Wouldn't it be great if you could try out a number of floors in your own home before you finally make a decision? Well, now you can! Thanks to the
Quick-Step RoomViewer
you can preview all their floors virtually, so you will always make the right choice.
Laminate Flooring
Laminate flooring has long been the preferred choice for home owners who need a hard-wearing flooring option but don't want to compromise on style. If you are looking to replace your existing flooring and you want a solution which suits your busy home yet complements your existing interior décor, then laminate flooring if the ideal option.
There are many benefits to laminate flooring. It truly is a versatile and diverse flooring option which will suit any room in any home. Quick and easy to lay, laminate flooring can completely change the look of your home in a matter of hours.
What is laminate?
Laminate flooring is made from pressed wood with a photographic top layer which commonly resembles a wooden finish although the photograph can depict stone or flag finishes. The photographic layer is topped with a see-through "wear layer" which is scratch resistant, making laminate flooring durable and ideal for busy homes and pet owners.
Laminate flooring is often called a floating floor as it does not directly connect to the flooring underneath when it is laid. Instead, a layer of inexpensive foam is laid upon the existing flooring and the laminate is laid on top of this. The foam acts as an insulator, making the floor not as cold underfoot, and it also acts as a cushion against footfalls. The laminate boards usually fit and snap together forming a solid flooring solution. Some laminate floor boards need gluing together, but most boast the fit and lock mechanism.
Why choose laminate?
One of the biggest benefits of a laminate flooring is that it is durable and hard-wearing. Ideal for busy homes, laminate flooring does not scratch or scuff, so it will keep its freshly-laid appearance for much longer than hardwood flooring might. Another benefit of laminate flooring is that it is easy to wash and keep clean. However, if water should penetrate between the boards then this can cause the wood to swell or bow so you should always be careful how much water you allow to sit on your laminate flooring.
Laminate flooring is relatively quick and easy to lay and once it is laid, it can be walked upon much sooner than with other flooring types; again, ideal for busy households who can't afford to all be out of the house at the same time. Laminate flooring is available in a range of styles, but they are all relatively cheap when compared to hard-wood or tiled flooring. You can even fit laminate flooring yourself if you choose to negate the fee for the floor specialist.
Another benefit to laminate flooring is the ability to replicate any design and style on to your laminate flooring as it is simply a picture. This means that you can create a style to perfectly suit your home, no matter what your current décor is looking like.
Laminate flooring is hard-wearing, durable, flexible and a much cheaper option that replacing your carpets. Why not look at our range here at RGC – we're sure to have something to fit your needs.
| | | | |
| --- | --- | --- | --- |
| | | | |
| | | | |
| | | | |
| | | | |
| | | | |
| | | | |
| | | | |
| | | | |
| | | | |
| | | | |
| | | | |
| | | | |
| | | | |