Drainage
Below Ground Drainage Solutions by Brett Martin

- Pipe and Fittings Drain, Sewer, Surface water
- Access Chamber Assemblies
- Gullies
We stock a comprehensive selection of the most popular best selling items all available now, instore or online with FREE LOCAL DELIVERY

The Full Range is also Available for Special Order
Call in or call 01803 834622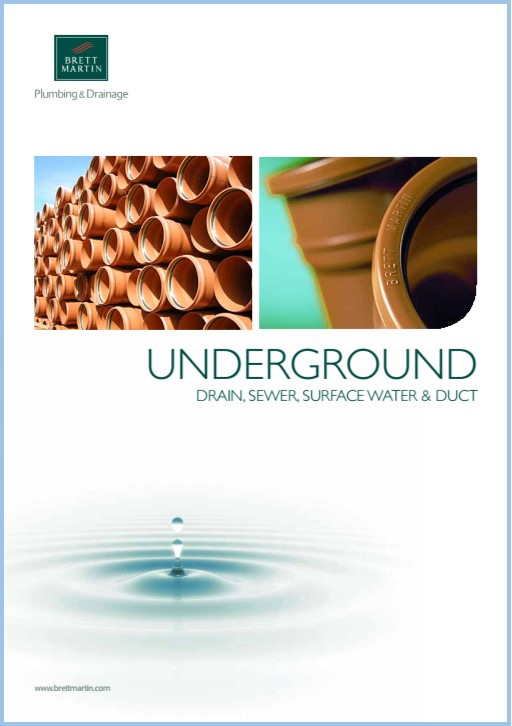 Below ground drainage systems
The installation of underground drainage systems requires a great deal of knowledge and experience as well as high-quality resources. At RGC Building Supplies, we can come to your assistance if you are in need of below ground drainage solutions of the highest standard. Read on to learn more about the purposes of underground drainage solutions.
The benefits of underground systems
Underground drainage systems are highly discreet, can prevent water logging, protect you from the dangers of flash floods and help you win the battle against water contamination. It's important to enlist the services of trusted professionals when you need to install underground drainage systems. If an installation is carried out incorrectly, a great deal of damage can occur, and you could find yourself in trouble with your local authority. If you are having a new system installed, you will need to get in touch with your local Building Control Department. They will tell you whether your project meets regulations. It's incredibly important to contact them if you are considering installing or adapting an underground drainage system. You will normally need to get in touch before work begins, even if you are only carrying out a minor repair.
Forms of drainage systems
There are two main types of drainage systems in use in the United Kingdom. Foul water systems are tasked with treating sewage and grey wastewater from toilets, baths, sinks, dishwashers and washing machines. Surface water systems deal with rainwater. Other forms of grey water or sewage must be sent to foul water pipes. If you have an older property, wastewater and surface water could be running into your foul water pipes. Should this be the case, you can install a trapped gully to prevent unpleasant aromas. More modern homes tend to have separate surface and foul drainage systems.
Install the correct pipes
All the pipes you use to install underground drainage systems need to be brown and designed for underground drainage in particular. If your building control department learns that this is not the case, you will be told to remove them. This can mean wasting a great deal of time, money and energy, so don't take the risk. The pipes must also be chamfered at both ends to smoothen the installation process.
How we can help
Talk to RGC Building Supplies today if you do need to purchase equipment for a below-ground drainage system installation. We are able to supply a range of drain, sewer and surface water pipes and fittings as well as access chamber assemblies and gullies. What's more is that we are always on hand to advise you if you do need any assistance with selecting the right solutions for your particular requirements. Our range of solutions is one of the most comprehensive on the market, and we can also offer free local delivery.
Contact us
We are waiting to hear from you right now if you require equipment for rainwater drainage systems, outside drainage systems or driveway drainage. Reach us today by calling 01803 834 622 or by sending a message to info@rgcbuildingsupplies.co.uk.