Eastbrook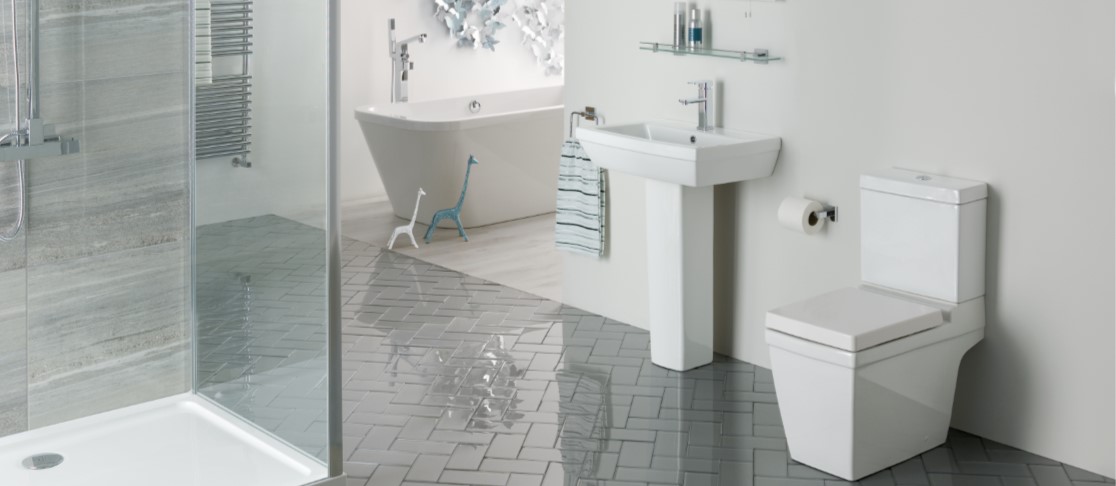 Eastbrook bathrooms offer a comprehensive choise of affordable luxury fixtures and futtings that maximise
your available and space and budget.with style: Basins, Toilets, Taps, Showers, Enclosures & Trays, Vanity Units
Towel Rails, Hydrotherapy Hot Tubs, Panels & Screens. All available in store or online with FREE Delivery
on all orders over £350
| | | | |
| --- | --- | --- | --- |
| | | | |
| | | | |
| | | | |

See Eastbrook products in fabulous room sets in our large first floor showroom.
The Eastbrook Company


Eastbrook is a Gloucester-based designer and manufacturer of bathroom products including baths, hydrotherapy solutions, mirrors, cabinets, panelling, sanitaryware, shower enclosures and valves, taps, wastes, towel rails and accessories. The company has been in the business for many years and has seen many competitors come and go since it was first founded. There are solutions to meet all tastes within the Eastbrook catalogue, including a wide range of unique and exclusive products. The team aim to provide the right products for all customers wishing to revamp their bathrooms and make the most of the space available to them. Eastbrook offer full technical backup to all their customers, and their products have been installed in homes and business premises across the UK. There are more than 5,000 products in the Eastbrook catalogue, which is typically updated three times each year.


A leading manufacturer


Having been a leading independent bathroom distributor serving the UK and Ireland for more than two decades, Eastbrook can be counted on to deliver the excellence that you require. Some of the most popular Eastbrook products available through RGC Building Supplies include the
Volente Offset Quadrant Enclosure, Wendover Straight Multirail, Conway Shower Panel, Pricilla Sit On Basin, Winterbourne Thermostatic Shower Pole, Volente Spacesaver Offset Quad, Oslo Tall Cistern Unit, Oslo Corner Combi Single Basin Top, Staverton Tube On Tube, Mirror Cabinet and Haymarket Bath Taps. The Eastbrook team take a great deal of pride in the quality of their Aftersales service. Aftersales team members are able to provide the highest standard of guidance and advice and can resolve all kinds of problems.


Eastbrook at RGC


At RGC Building Supplies, we can provide you with a large number of Eastbrook products. We have been established in the South Hams for over a decade and a half and are a family-run business offering first-class building materials and outstanding installation services for bathrooms and kitchens. More and more homeowners are choosing us over the competition when they wish to breathe new life into their bathrooms and kitchens and add value to their homes. The independent nature of our company allows us to keep our prices low whilst providing a valuable personal service. We run one of the largest DIY stores and trade counters in the area, with our bricks-and-mortar store also being home to Inspiration, a showroom playing host to bathrooms from a range of illustrious brands. You will find a diverse range of kitchen appliances, lighting products, tools and bathroom fixtures on our website.


Why RGC Building Supplies?


As well asour own in-house bathroom and kitchen design studio and a full fitting and installation service. RGC Building Supplies is also a leading source of building materials, offering daily deliveries to sites. Therefore with our extensive knowledge of the whole building process, we can also come to your assistance with new windows and doors, roofline products, plumbing and electrical solutions, lighting systems, paints, wallpaper and ironmongery.


Delivery


Unlike many of our competitors, we are able to offer genuinely free delivery within our local area and Nationwide with orders over £500. We are proud of our transparent pricing strategy and never raise purchase prices to artificially provide free delivery. We also do everything in our power to prevent your products from being damaged in transit, with all porcelain items being sent on pallets for protection. Although couriers are cheap, the chances of your products being damaged are heightened when deliveries are made this way. No matter how many items you order, you will only incur a single charge, and you won't need to pay this at all if you order more than £500 of products.


Why renovate your bathroom?


People renovate their bathrooms for a wide range of reasons. Not only can rethinking your bathroom add value to your property, it can make it a much better place to live and add real luxury and practicality to your life. Bathroom renovations often add as much as £4000 to the value of homes, even when much less than that figure is actually invested in breathing new life into your space. You can also reduce your energy costs by rethinking your bathroom thanks to the wide range of water saving products now available which stop you from using more water than you need to. There are also controls for items such as towel rails which allow you to gain only as much warmth as you require. Adding features such as digital shower panels, shower enclosures and infrared sensors can vastly improve the functionality of your bathroom and make it fit for modern living.


Create a modern space


When you renovate your bathroom, you can improve your energy-efficiency, increase your storage space, modernise your home and make your space safer. No matter what your stylistic tastes are, you're bound to find something that suits in the RGC Building Supplies catalogue. You don't have to spend thousands upon thousands of pounds to bring your bathroom up-to-date, and you may not even need to overhaul it completely. If you do need any advice on selecting the right products for your needs and budget, feel free to get in touch with RGC Building Supplies today for help and advice.


Contact RGC Building Supplies


To get in touch with RGC Building Supplies today, simply give us a call on 01803 834 622 or send a message to info@rgcbuildingsupplies.co.uk. We have excellent product knowledge and know our catalogue inside out. We're confident we can direct you towards the best Eastbrook bathroom products for your specific tastes and requirements, as well as your budget. Why not speak to us today for further information on our Eastbrook bathrooms, showers, baths, shower doors, shower enclosures, toilets and more?