Tile Backer Board
NO MORE PLY
We stock the No More Ply Fibre Cement Board tile backing system for creating the perfect wall and floor tile foundation for bathrooms, kitchens and wet rooms. The full range includes Construction and Insulation boards as well as a Tanking kit.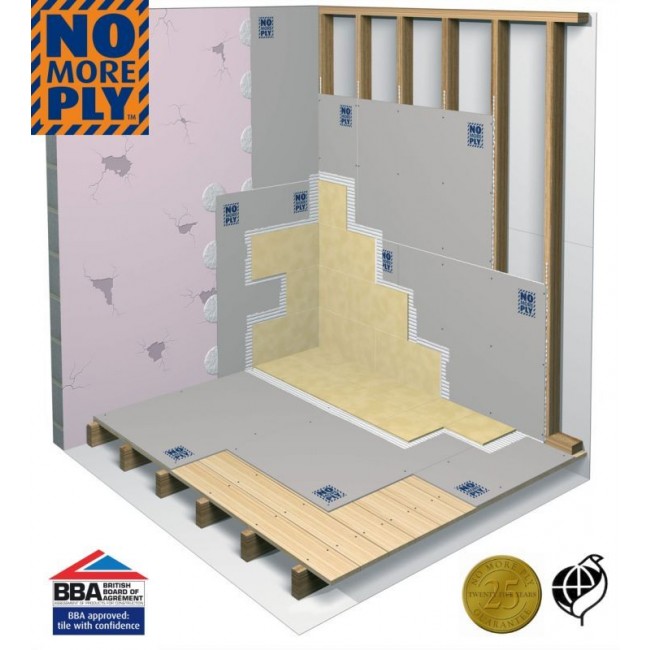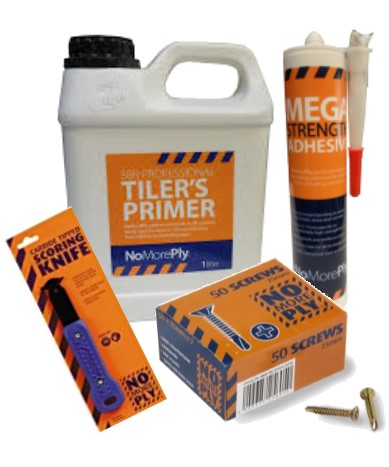 BACKING BOARD 6mm
Strong, Quick and Easy
Impervious to Moisture
Impervious to moisture and dimensionally stable. The perfect substrate for all tiles in bathrooms and kitchens.
Heat Resistant and Insulative
Ideal for use under electrical underfloor heating systems.
Impact Resistant
Minimal damage during transportation, handling, storing and laying - excellent for all busy sites.
Thin
Only 6mm is added to the floor height when overboarding timber floors.
Easy To Handle
Handy size. Will fit into most small cars and vans.
A1 Fire Rated; Incombustible
Fireproof; contains no asbestos and will not burn.
Noise Reducing
Excellent sound proofing characteristics make it ideal for overboarding in apartments.
Easy To Cut
Most cuts can be done simply with the No More Ply Scoring Knife. For awkward shapes use a jigsaw. The 12mm board cuts very easily with a normal saw.
Easy To Lay On Floors and Walls
8 x No More Ply screws per sheet and a small amount of No More Ply Mega Strength Polyurethane Adhesive and it's laid! Simple to fix on walls.
Lifetime Guarantee
On all products for complete peace of mind.
Meets New British Standards Update
BS 5385-1:2018 excludes the use of plywood and other wood-based boards as a suitable backing material for ceramic and natural stone tile fixing to walls. No More Ply complies.

STS Construction Boards
One Board - Multiple Applications

Recommended for both internal and external use

Stronger walling material then plasterboard for partition walls in wet areas.
Mositure Impervious
Suitable for large, heavy wall tiles.
Impact resistant
Secure for fixings towel rails
A1 fire rating for fireplaces before tiling and installing log burner installation.
Can be used as an external renderboard

NEW!
22mm T&G - Now in 8' x 4' sheets
Available in two sizes to provide easy product handling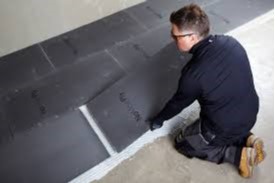 Single tongue and groove flooring board
Replaces both timber and over-boarding.
No squeaking guaranteed
Quick and simple laying
Half Size option; 1200mm allows single-man lift
Insulation Board
Versatile boards for floors and walls, inside and out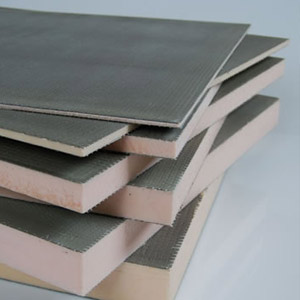 Alternative tile backing board for use on solid surfaces
partners well with electric underfloor heating
Thicker widths ideal for tanking out basements
Use externally as substrates for heavy tiles
Widths from 6mm to 50mm to suit a wide variety of applications
Lifetime guarantee
Mega Strength Adhesive
Polyurethane adhesive is recommended for fixing NoMorePly boards in conjunction with NoMorePly screws. It gives an exceptionally high bond strength and foams slightly on application to fill small gaps. The water free formulation ensures that it doesn't foam excessively. As it is 100% waterproof, it is an excellent jointing solution in all areas including bathrooms and wetrooms.
Coverage: approximately 5 - 8 NoMorePly boards
Sets in 5 minutes
Comes in 310ml tube
Surface temperature range: -30 to 150⁰C
Solvent free & resitant to chemicals
Tested to EN 204 D4

Boarding Products & Installation Guides
See the step by step instruction guide for full details of the entire boarding sytem options and all components.
Backer Board

PDF

Construction

PDF

Flooring

PDF
NEW!
MEGA TANK KIT
Completely waterproof and ready to tile within 2 hours
SUPERIOR ONE-COAT METHOD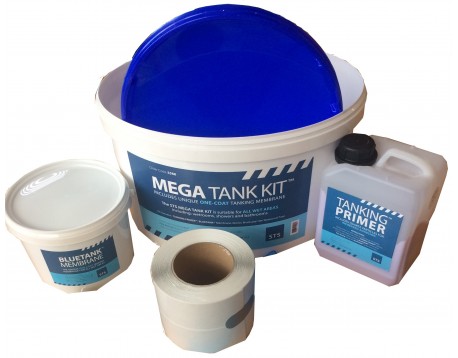 One-coat and dry in 2 hours
Super adhesion quartz particle primer
Everything needed including brush & gloves
8 sqm coverage – 2 showers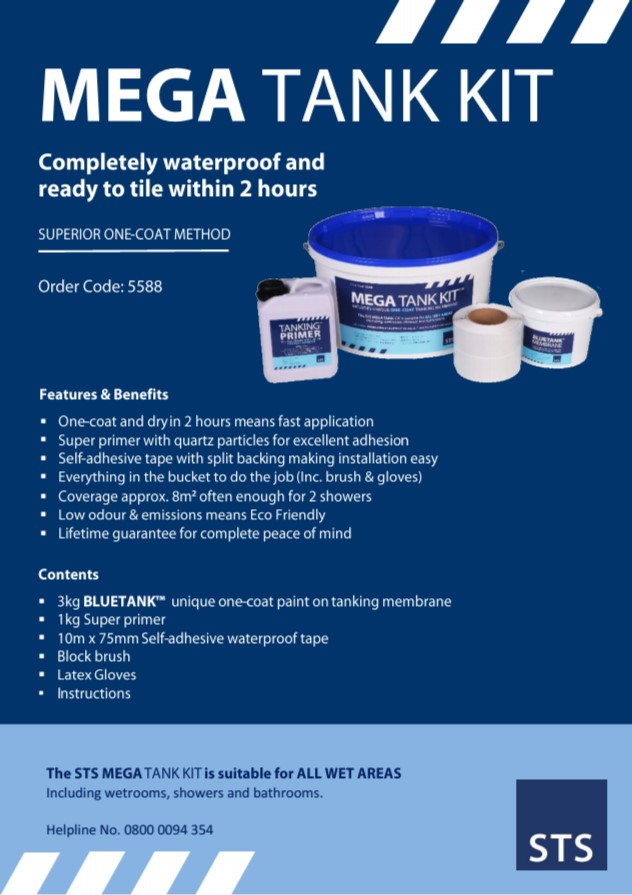 PDF

Ready Reckoner
Use the No More Ply spreadsheet to calculate the amount of board and sundries you will require for the job.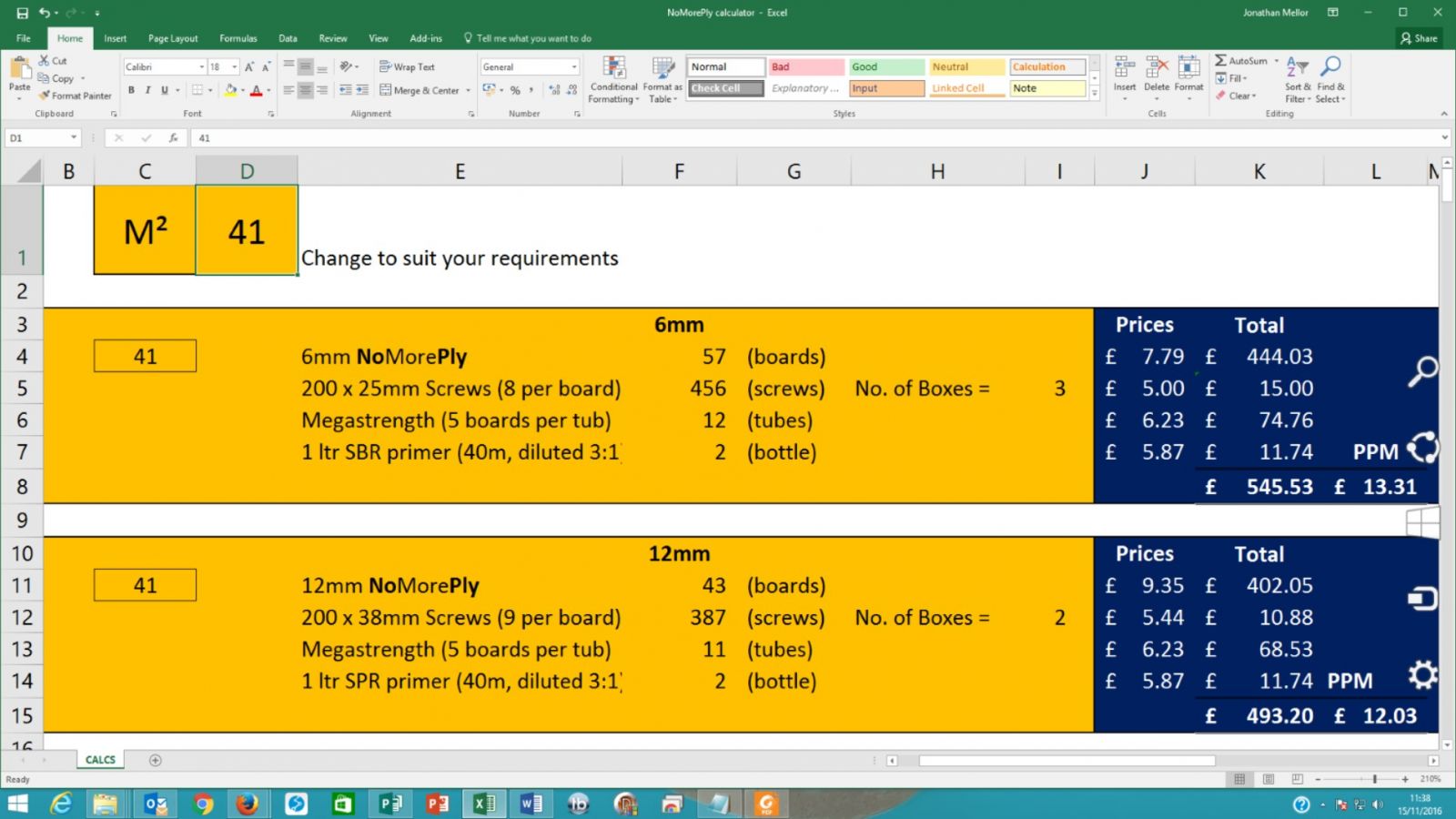 CASE STUDIES
See here for news of No More Ply in use